Welcome to our GALLERY PAGE!
Please visit our KITTENS AVAILABLE page for more information
RockymtnexoticsKingRamsey of Akila Savannah
Our stud here at Akila Savannah. He is an F7. All of the pictures of kitten on this page are his. We have been so blessed with the quality and temperament that Ramsey sires. He is dirty in these photos because he LOVES to play in the dirt !!
Ramsey is such a sweet and affectionate boy. He loves his humans! A joy to have around. Ramsey loves to cuddle and be close to his people but is also a friend to everyone. We love his beautiful exotic look but he stays very sociable as many lower generations savannahs do. He is very consistent in the quality of kittens that he produces. All have his beauty and his temperament. (photos taken 2-3-18)
Ramsey is much cleaner in these photos! HA HA! Although he LOVES to play in the dirt, he does clean up nice. He loves his time out in the enclosure, soaking up that sunshine and breathing in the mountain air.
​
(Photos taken 3-23-18)
IwannaSavannah QueenDahlia of Akila Savannah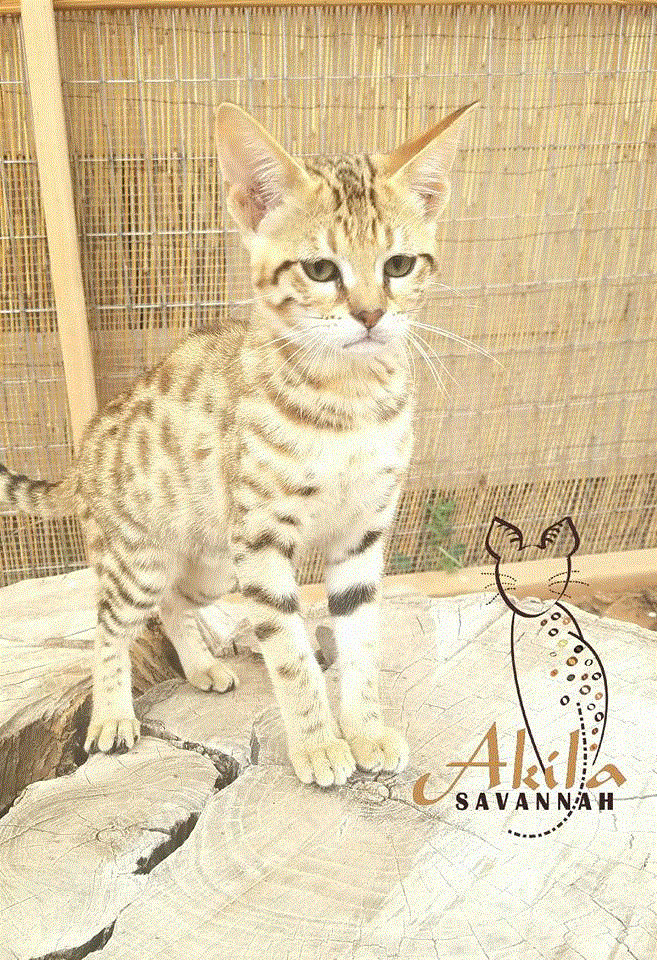 Queen Dahlia is such a fun and entertaining F2 ! We love her! She is very active and loves to play. As many f2s, she can jump very high and she can get into anything!! Dahlia and Ramsey have had some amazing kittens together!
(pictured below are a few of her babies)
OzarksavannahThelmaRose of Akila Savannah
Queen Thelma is so beautiful. She has the prettiest little spots all over her! Thelma loves to play fetch and get into water! Her and Ramsey have beautiful babies together! All have her beautiful Serval-type and his outstanding temperament. Her babies are always so playful and a joy to have around!
(Some of Thelma's kittens pictured below)
--ENJOY these pictures of past a present AKILA fur-babies--